Supplemental Slack info for you and your team.
Tips and tools for beginners and experts alike.
Get familiar with Slack Enterprise Grid for large organizations.
If you're curious about what's new in Slack — and what's changed — you're in the right place.
Develop your skills and prepare to become Slack Certified!
Launching a new team or joining one for the first time? Our easy-to-read guides help your team work better, together, from day one.
Ready to level up? Browse our time-saving tricks and practical tips for making Slack work for you.
All kinds of teams thrive with Slack — take a look at our department-specific guides. More coming soon!
Learn how Slack works, from top to bottom!
Want to learn more about setting up your team? Look no further!
Welcome to Slack! We're so glad you're here. Let's get started!
Adjust your profile and preferences to make Slack work just for you!
Simplify your daily work with apps and tools.
Tips and tools for beginners and experts alike.
Switch between workspaces
If you're signed in to more than one Slack workspace or belong to multiple workspaces in an Enterprise Grid organization, you can easily switch between them in Slack on your desktop and mobile devices.

Open another workspace
Desktop app
Browser
Mobile
When you're signed in to more than one workspace on the Slack desktop app, you'll see the icon for each workspace on the far left side of the app. Click an icon to open that workspace.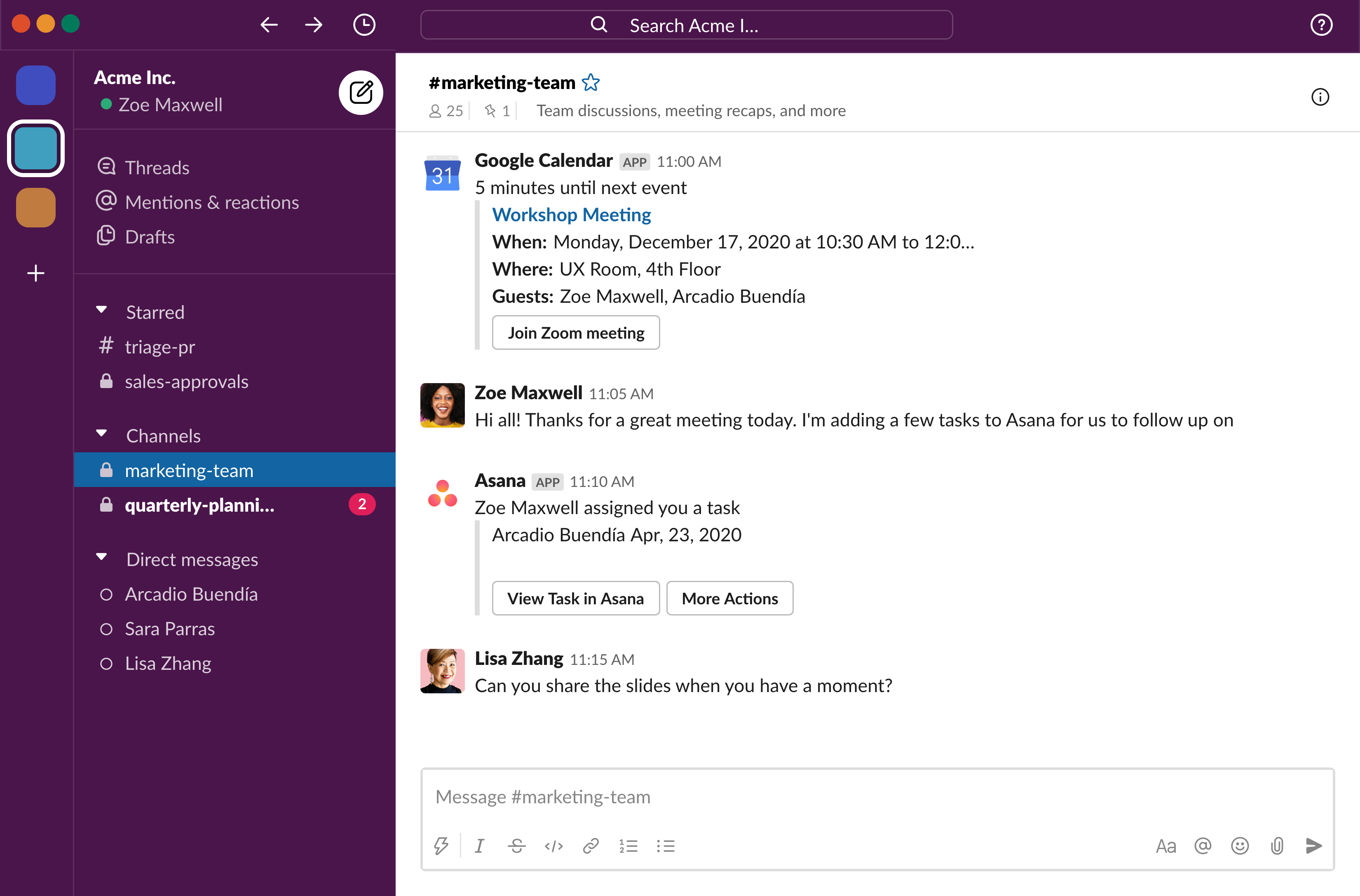 Click your workspace name in the top left.
Select Switch workspaces from the menu.
Click the workspace you'd like to open.
From the Home tab, swipe right.
Tap a workspace to open it.
Tip: You can also switch to any workspace you're signed in to on desktop by typing Cmd K (Mac) or Ctrl K (Windows/Linux) followed by the workspace name.