Supplemental Slack info for you and your team.
Tips and tools for beginners and experts alike.
Get familiar with Slack Enterprise Grid for large organizations.
If you're curious about what's new in Slack — and what's changed — you're in the right place.
Develop your skills and prepare to become Slack Certified!
Launching a new team or joining one for the first time? Our easy-to-read guides help your team work better, together, from day one.
Ready to level up? Browse our time-saving tricks and practical tips for making Slack work for you.
All kinds of teams thrive with Slack — take a look at our department-specific guides. More coming soon!
Learn how Slack works, from top to bottom!
Want to learn more about setting up your team? Look no further!
Welcome to Slack! We're so glad you're here. Let's get started!
Adjust your profile and preferences to make Slack work just for you!
Simplify your daily work with apps and tools.
Tips and tools for beginners and experts alike.
Share links and set preview preferences
It's easy to share web content like articles, pages, and tweets in Slack. When you share a link, you'll see a preview of the content just below your message. If you don't want to see link previews, you can turn them off.

Share links
To share a link in Slack, copy and paste the URL into the message field and send. Most links will automatically expand to show a preview of the web page. Here's an example from the desktop app: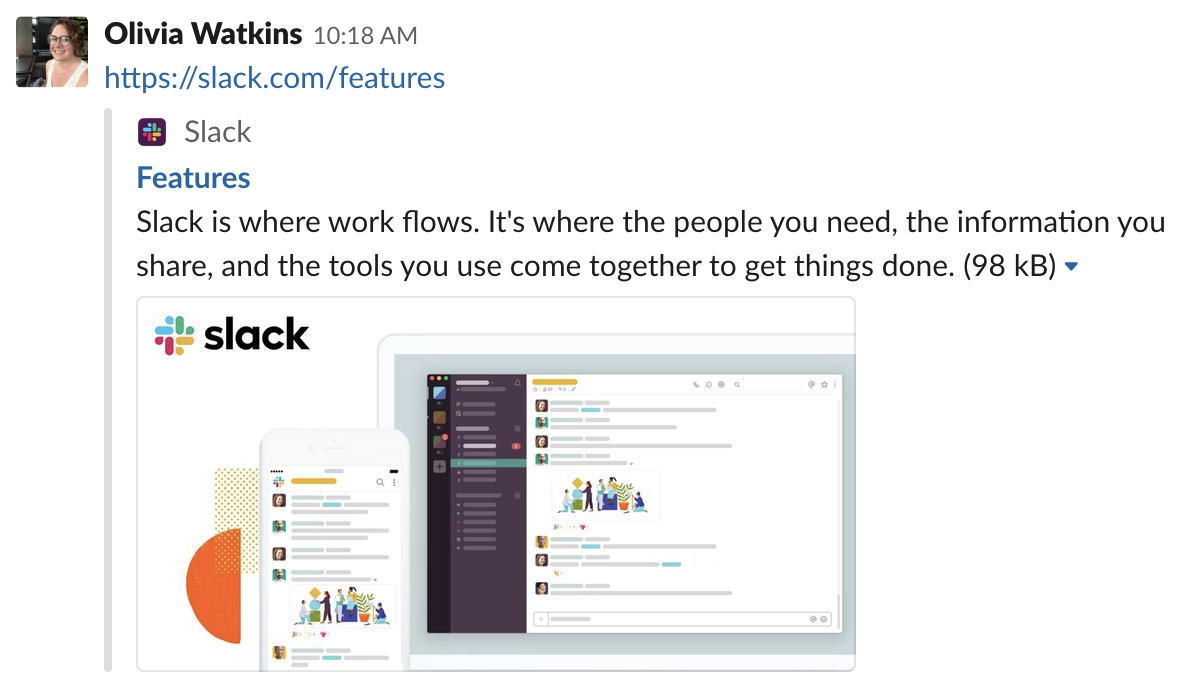 Tip: You can create hyperlinks in your messages to give links a cleaner look. To learn more, visit Format your messages.
When previews don't display
Here are some reasons your link may not expand to show a preview:
The link contains no preview data. If the web page doesn't include the necessary embedded data, the preview won't expand.
You linked to a private page or file. For example, you won't see a preview of password-protected YouTube or Vimeo videos.
It was recently posted by another member of your workspace. No attachment will expand if that link was shared in the same conversation within the past hour.
You haven't added the Twitter app yet. If Twitter URLs don't expand to show the full tweet, add the Twitter app to your workspace.
It links to audio or video hosted by a service we haven't not added to our allowlist. We're working to approve more services in future.
http:// was not included. Try adding http:// and your link should expand.
Your message contains more than five links. If more than five links are included, they won't expand.
Remove a link preview 
From your desktop, hover over the link preview.
Click the  that appears on the left side of the link.
Note: The option to remove link previews is not available on the Slack mobile apps.

Turn off link previews 
If you'd prefer not to see previews for shared links, you can adjust your settings:
From your desktop, click your profile picture in the top right.

Select 

Preferences from the menu

.

Click Messages & media in the left sidebar.
Below Inline media & links

, uncheck the boxes next to

Show images and files from linked websites and Show text previews of linked websites.
Note: For some apps and integrations, link previews won't be disabled when the options above are unchecked.