Supplemental Slack info for you and your team.
Tips and tools for beginners and experts alike.
Get familiar with Slack Enterprise Grid for large organizations.
If you're curious about what's new in Slack — and what's changed — you're in the right place.
Develop your skills and prepare to become Slack Certified!
Launching a new team or joining one for the first time? Our easy-to-read guides help your team work better, together, from day one.
Ready to level up? Browse our time-saving tricks and practical tips for making Slack work for you.
All kinds of teams thrive with Slack — take a look at our department-specific guides. More coming soon!
Learn how Slack works, from top to bottom!
Want to learn more about setting up your team? Look no further!
Welcome to Slack! We're so glad you're here. Let's get started!
Adjust your profile and preferences to make Slack work just for you!
Simplify your daily work with apps and tools.
Tips and tools for beginners and experts alike.
Getting started for new Slack users
A Slack workspace is a single place for your team and your work. If you've recently joined one, this guide will help you get set up in Slack so you can get started. Before you dive in, make sure you've downloaded the desktop app and you're able to sign in to your workspace.

1. Fill out your profile
Your profile will help the others you work with in Slack know who you are.
From your desktop, click the default profile picture in the top right.
Click Profile from the menu, then click Edit profile.  
Let people know what you do and add a profile photo.
Click Save Changes.

2. Configure your notifications
Your notifications in Slack will alert you of activity in your workspace. You can decide what messages will trigger notifications for you and set other details from your preferences.
From your desktop, click your profile picture in the top right. 
Select Preferences from the menu to open your notification preferences.
Choose the activity you'd like to get notified about, then configure any additional notification preferences you'd like.
Visit Configure your Slack notifications to learn about all of the available notification preferences in Slack.

3. Learn how to send messages
In Slack, you can send messages to other people you work with. If you need to communicate with a group of people, send a message in a channel. To have a one-to-one conversation with someone, send them a direct message.
To start a new message, click the  compose button in the top left.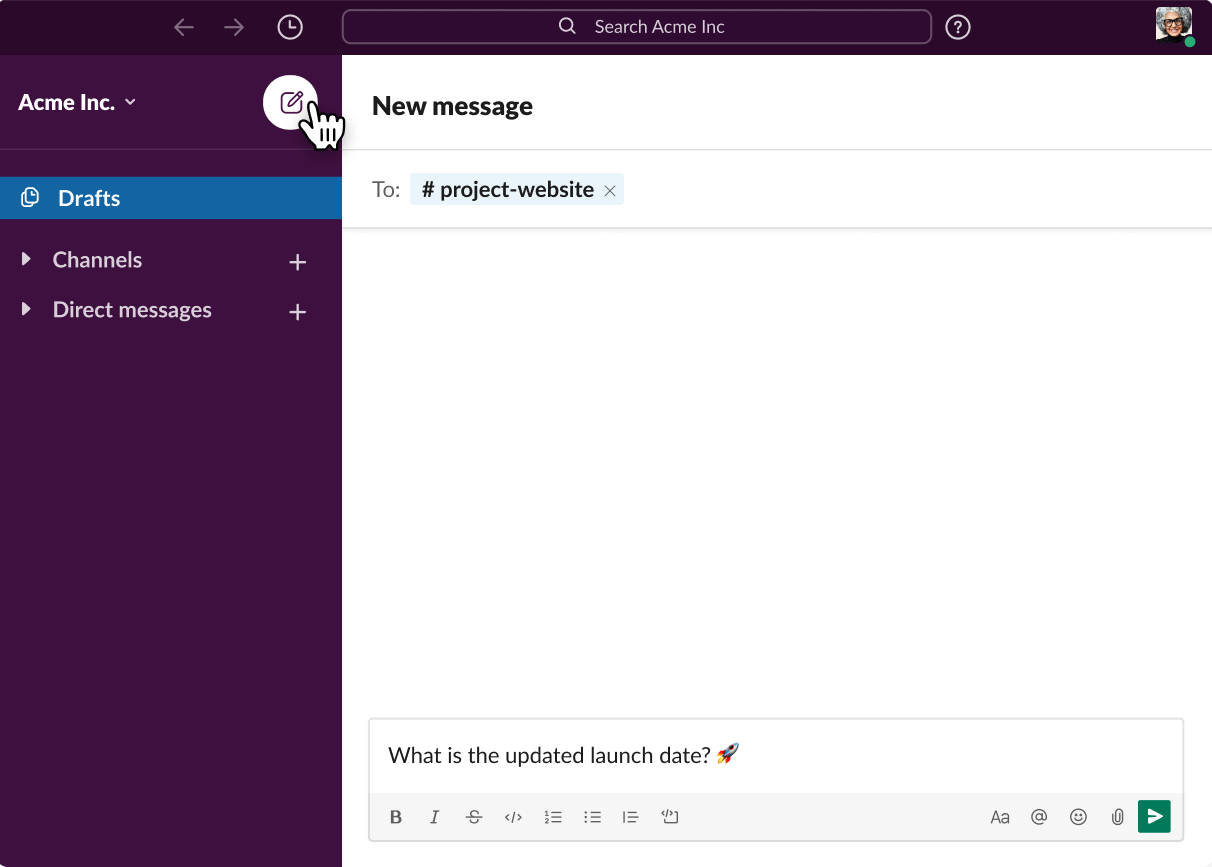 Visit Find and start conversations in Slack to learn more about sending messages. 
Note: If you've been invited to a workspace as a guest, you can only send messages in channels you have access to, and DM people in the same channels as you.

4. Learn about other Slack features
Now that you're set up in Slack, you're ready to get started and explore other features.