Supplemental Slack info for you and your team.
Tips and tools for beginners and experts alike.
Get familiar with Slack Enterprise Grid for large organizations.
If you're curious about what's new in Slack — and what's changed — you're in the right place.
Develop your skills and prepare to become Slack Certified!
Launching a new team or joining one for the first time? Our easy-to-read guides help your team work better, together, from day one.
Ready to level up? Browse our time-saving tricks and practical tips for making Slack work for you.
All kinds of teams thrive with Slack — take a look at our department-specific guides. More coming soon!
Learn how Slack works, from top to bottom!
Want to learn more about setting up your team? Look no further!
Welcome to Slack! We're so glad you're here. Let's get started!
Adjust your profile and preferences to make Slack work just for you!
Simplify your daily work with apps and tools.
Tips and tools for beginners and experts alike.
Legacy Client
New Client
How to use Slack: your quick start guide
Welcome to Slack — a messaging app for business. Slack transforms the way organizations communicate by bringing people together to work as one unified team. To help you get started, check out the video below for a quick tour, then read on for more details.
Tip: When you're ready for more, see our Slack 101 and video tutorials.

Sidebar
From the sidebar, you can access your conversations in Slack. You'll see a list of channels you've joined and your direct messages, notifications for specific conversations, and the option to compose new messages.

Channels
Channels are fundamental to working in Slack — they bring the right people and information together in one place, and make it possible to organize work around a common purpose.

Message field
When working in Slack, you have a variety of messaging options available from the message field to help you communicate and connect with your team.

Navigation bar
Use the navigation icons to go back and forth in your history (just like you would in a web browser) or view recent conversations, search for information, or get help with Slack.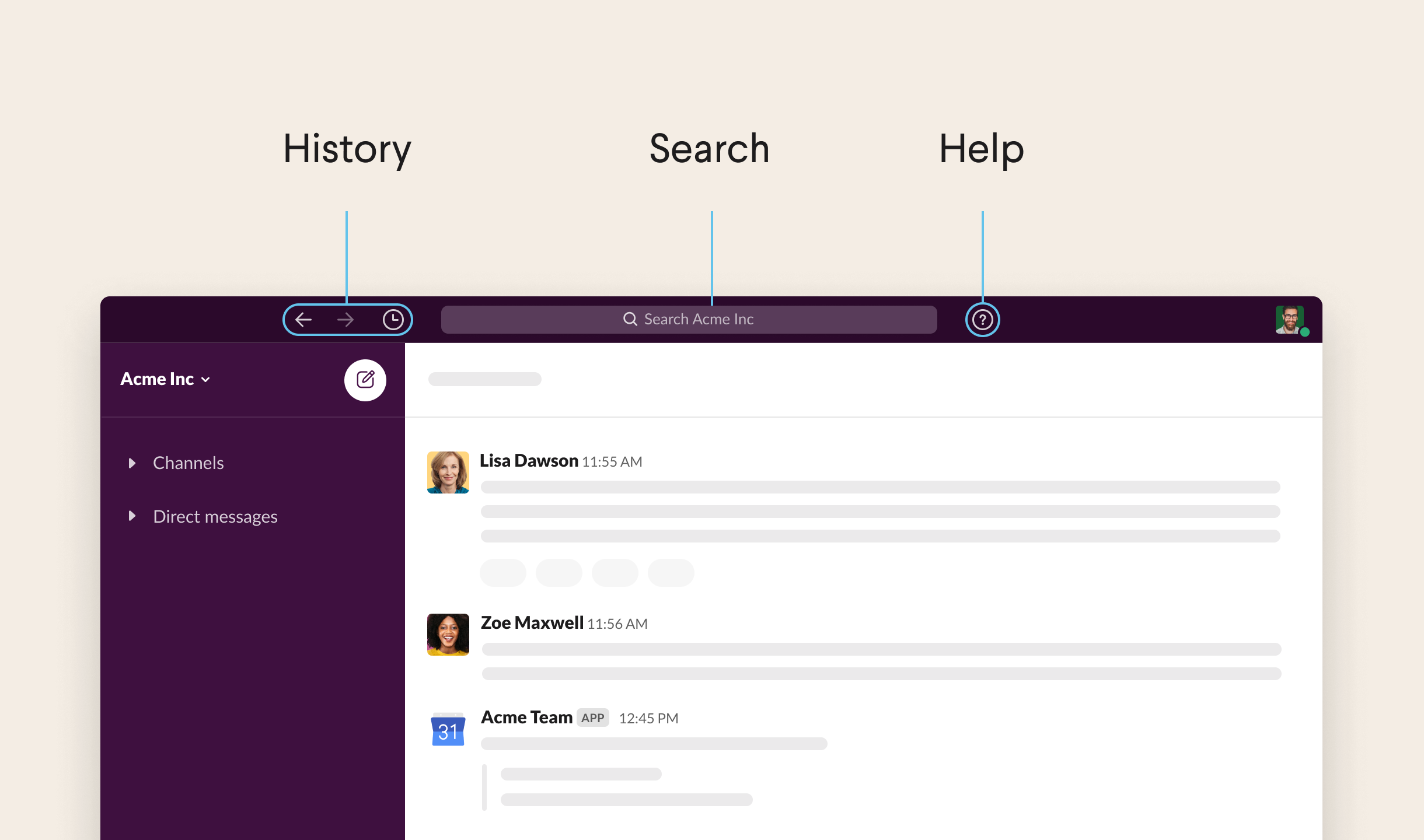 Tip: Press Cmd K (Mac) or Ctrl K (Windows/Linux) and type the name of any channel or person to quickly jump to a conversation.
Learn more: For an in-depth look at using Slack, take our courses and test your knowledge to earn Slack Skills badges.